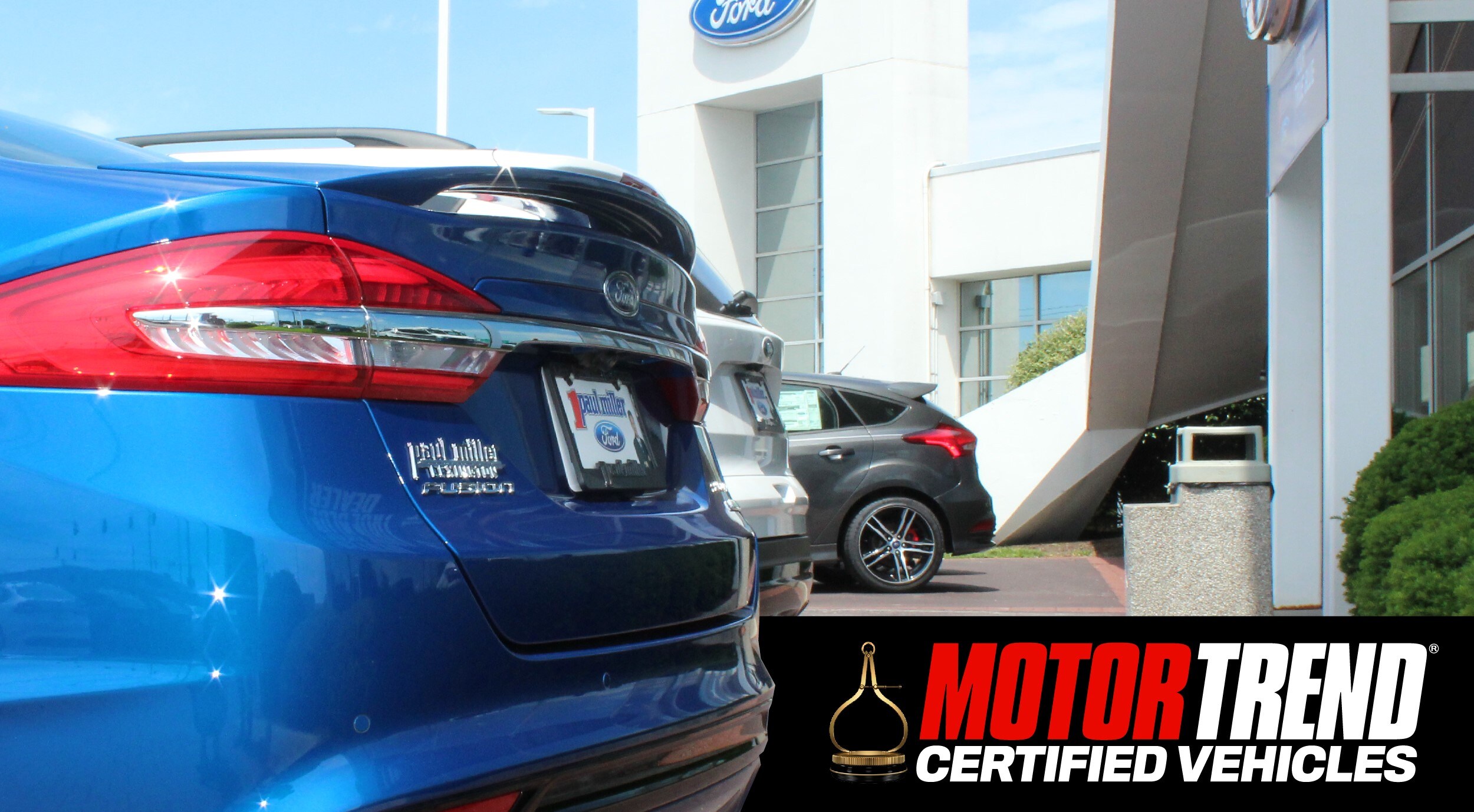 5 Reasons Your Next Car Should Be Motor Trend Certified
We recently launched an incredible new program at Paul Miller. We've always been proud to provide a great selection of high-quality pre-owned vehicles, but we've now partnered with Motor Trend to offer Motor Trend Certified vehicles. These aren't just any pre-owned cars, trucks, and SUVs—Motor Trend certification is different. Here's how:
1. Motor Trend Certified vehicles are put through the wringer
Motor Trend certification requires that every MTC vehicle pass a grueling 43-point inspection. Our techs go over every inch of the vehicle, repairing anything that needs to be repaired and ensuring that every tire, gasket, spark plug, and system meets Motor Trend's standards. When you select a Motor Trend Certified vehicle at Auto Outlet, you drive off knowing that car is going to take care of you and your family.
2. Motor Trend Certified vehicles are an incredible value
We guarantee it. The Motor Trend Certified Best Value Guarantee means that if you find a lower advertised price on the same car with the same benefits and options within five days, we'll refund 100% of the price difference. We're pretty sure you're not going to find a better price, though. Motor Trend Certified vehicles also come with a $500 trade-in value guarantee—if you have all your vehicle service done with us, we'll guarantee that your vehicle will be worth at least $500 more at trade-in time (when you trade it in at a Paul Miller dealership).
3. Motor Trend Certified vehicles come with an exchange policy
Yes, you read that right. Every MTC vehicle comes with a 72-hour, 300-mile exchange policy—so if you take it home, drive it around, and decide it's not the perfect vehicle for you and your family (or you decide you'd rather have that awesome MTC Fusion you saw on the lot), just bring it back. We'll make it easy.
4. Motor Trend certification doesn't end at the edge of the lot
Motor Trend certification will keep taking care of you and your vehicle long after you drive off our lot! Motor Trend Certified vehicles come with the EasyCare Select Plus Package, which includes paintless dent repair, 24-hour roadside assistance, windshield repair, paint and fabric protection, road hazard protection, and cosmetic wheel and tire repair for as long as you own the vehicle. Motor Trend Certified vehicles also come with a 6-month, 7,500-mile Motor Trend Certified Limited Warrantee. How many other pre-owned vehicles offer that sort of care?
5. Motor Trend certification means peace of mind
Purchasing a vehicle is an act of trust. You're trusting that it was designed with care and will keep you and your family safe on the road. It's all about peace of mind—something that can't be overstated when you're purchasing any vehicle, but especially a pre-owned one. We take that very seriously at Paul Miller Auto Outlet, which is why we're so thrilled to offer Motor Trend Certified vehicles. When we select a vehicle for Motor Trend certification, we know we're going to do whatever is needed to bring it up to meet that level of quality, from performing routine maintenance to replacing tires and repairing dents. And when you purchase a Motor Trend Certified vehicle from us, you know it's been double-checked, is in great condition, and will be a fantastic, reliable vehicle for you and your family.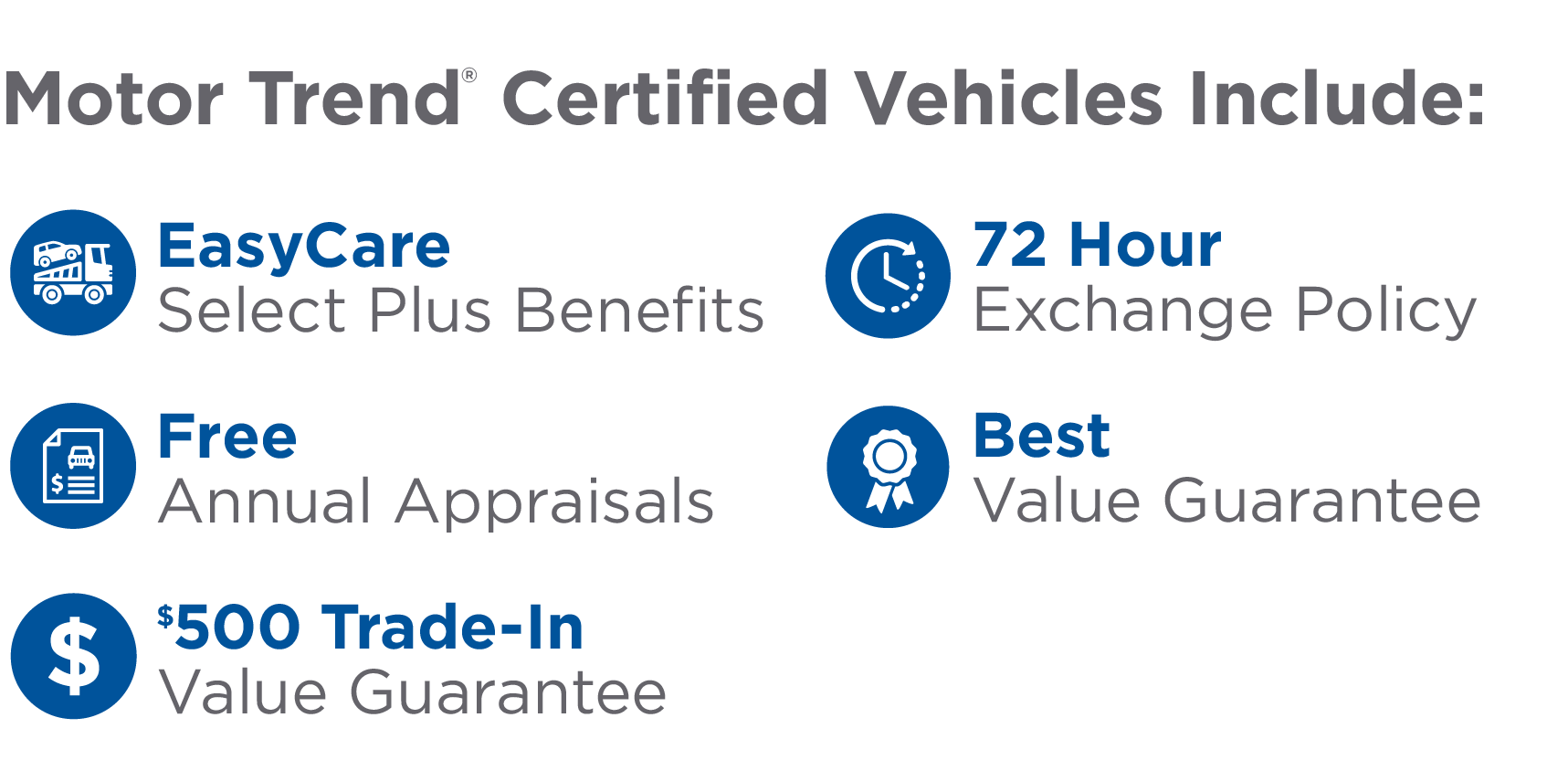 It's been our honor to provide our customers with the very best vehicles for the past 64 years. Our partnership with Motor Trend is just one more way for us to provide that service to our customers and our community. We're thrilled to be the exclusive home for Motor Trend Certified vehicles in Kentucky—you won't find pre-owned vehicles of this quality and with this many additional features anywhere else in the state.
You can browse our selection of Motor Trend Certified vehicles here on the
Paul Miller Mazda site
, but we really encourage you to come by the dealership and see the difference Motor Trend certification makes for yourself. We're looking forward to seeing you soon.